Samana
Samana is a Challenger 35 Ketch.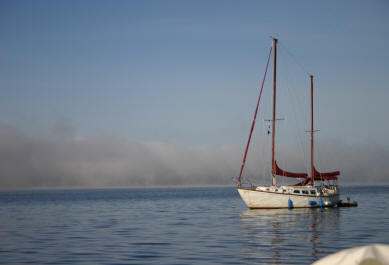 The above picture, taken from another sailboat, is looking west with the sun behind the camera and an early morning fog bank in the background behind Samana.
She sails out of Lake City, Minnesota on the local lake called Lake Pepin, a wide spot on the Upper Mississippi River which boarders Wisconsin and Minnesota. It is a very picturesque place with high bluffs, eagles soaring on the wind waves above the bluffs, and pleasant scenic views both from the bluffs and on the water. Preparations are underway for leaving in the fall of 2007 for a trip down the Mississippi River to New Orleans and beyond.
Last modified: 11 November 2006
© 2006 Arthur L. Howard